Hometown Boy Hits the Big Time
From T-Ball to The Top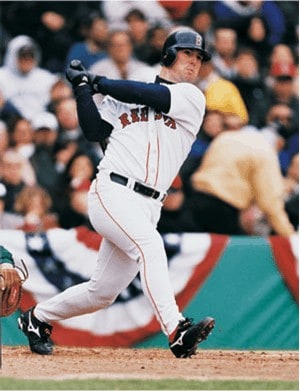 By: Bob Nugent
There was an article in Sports Illustrated about Trot Nixon with the headline: "DIRT DOG HAS HIS DAY." "I take that as a compliment," he said, "it means I'm not afraid to get dirty out there." And that is just what he does, banging into fences to catch a ball, running the bases with reckless abandon, and sliding head first into the bag. "I'll do whatever it takes to win!"
Trot started his baseball career at age 5, playing catch with his father, Dr. William Nixon, in his backyard. He went from T-Ball at the YMCA, to little league, then high school and legion ball. As a youngster he played all positions. "For some reason, when you're growing up, they tend to put the best players at shortstop. I don't know why – I even played a little shortstop, and I'm left-handed." When he got to high school, the coaches took one look at his arm and made him a pitcher. However, to keep his bat in the lineup, he played the outfield when he wasn't on the mound.
In 1993, BASEBALL AMERICA, named Trot the best high school player in the country (ahead of Alex Rodriguez). But the trip to the Major League hasn't been easy. Jeff Zona, who scouted Trot his senior year at New Hanover High School in Wilmington, North Carolina, and suggested the Red Sox sign him, had the following to say. "Trot suffered a bad back, had to go through eye surgery and many batting slumps. I always thought he would be a hard-nosed impact player and never had a doubt that he'd make it. He's a 100% genuine person on and off the field with a passion for the game."
In the Minors, Trot met up with another believer, Ken Macha, his manager in Triple A ball. At one point, while batting only .079, the Red Sox brass was thinking about sending him down or even releasing him. But Macha said, "Leave him here with me." That decision paid off, and he was added to the roster of the Boston Red Sox. There, he made a believer of the BoSox manager, Jimy Williams. When he was in a horrendous batting slump and everyone was questioning his ability as a big league hitter, the manager actually took to the mound and gave him extra batting practice. Then, one day he called him into his office and said, "You're my right-fielder. Now, go out there and play!"
And he did! In a season when Nomar Garciapara, Carl Everett, Jason Varitek and Pedro Martinez went down with injuries, Trot stepped up to the plate big time. In 2001, he had a .280 batting average, 27 home runs, 88 RBIs. and 31 doubles. In 2003, he batted .306, and had 28 home runs, 87 RBIs, and 24 doubles. In 2004, he had a career high .315 batting average. He also showed his durability in playing both right and center field in a team high 147 games. In 2001, Trot started 70 games in right and 67 games in center. "It doesn't matter to me where I play, I'll come in and play the infield if they ask me to." The Boston chapter of the Baseball Writers Association of America voted him MVP for the 2001 major league season.
An all-around athlete at New Hanover High School, in his senior year he was named Player of the Year in football and baseball by the North Carolina High School Athletic Association. Trot was offered a football scholarship by North Carolina State. In June 1993, Nixon was drafted as the seventh pick by the Boston Red Sox in the first round of the Major League Baseball Amateur Draft. While preparing for his first Wolfpack football game against Purdue, he got a call from his father, who had just negotiated a large signing bonus from the Boston Red Sox. He never even attended one class at NC State.
Trot spent a dozen successful years from 1996 through 2008 playing Major League Baseball. He was a member of the 2004 Red Sox team that won their first World Series since 1918 breaking the "Curse of the Bambino." Trot Nixon's stats with the MLB can be seen here.
© VisitWilmingtonNC.com™
Editor's Note: This article appeared in Capturing The Spirit Of The Carolinas.
No part of this publication may be reproduced, stored in a retrieval system, or transmitted in any form or by any means, electronic, mechanical, photocopying, recording, or otherwise, without the prior written permission of the publisher.