Historic Downtown Wilmington along the Cape Fear River
Wilmington:  Echoes of the Past
In the South there is a fascination with the past that is tangible. Among the citizens of a charming port city on the North Carolina coast, the fascination has become an abiding passion. The city of Wilmington was incorporated in 1741 and named in honor of Spencer Compton, the Earl of Wilmington. Located on the banks of the Cape Fear River, it now has the largest historic district of any urban area in the state and reportedly the third largest in the country.  Its population makes it the 8th largest city in North Carolina yet still retains its small town charm.
Streets of brick and cobblestone line much of the old city. Graceful homes with wide front porches, Greek columns and decorative ornamentation – survivors of the antebellum and Victorian eras – gaze wistfully at these antiquated, tree-lined streets as if they have a story to tell; and they do. The occasional iron hitching post, stepping blocks and sculpted watering troughs recall the days when horses and carriages traveled these bumpy lanes. In an earlier century, English ships, their empty holds weighted for safety with stones, left the ballast behind when they loaded their cargoes of cotton, turpentine, and other naval stores for the return trip from the Carolinas. The ballast was integrated into high, stone walls rising above the sidewalks, near the river. Adding to the intrigue of rich local lore and legend are tales of a network of underground tunnels leading from a number of the older homes to the water's edge; some say they were passageways used to conceal smugglers or escaping prisoners.
Indeed, the city boasts a connection with pirates such as the notorious Blackbeard, as well as with more savory historical personages: General George Washington, President Taft; Captain John N. Maffitt and other fearless captains of the Confederate blockade runners; Anna McNeill Whistler, made famous in the portrait painted by her son; Henry Bacon, architect of the Lincoln Memorial; President Woodrow Wilson and many others.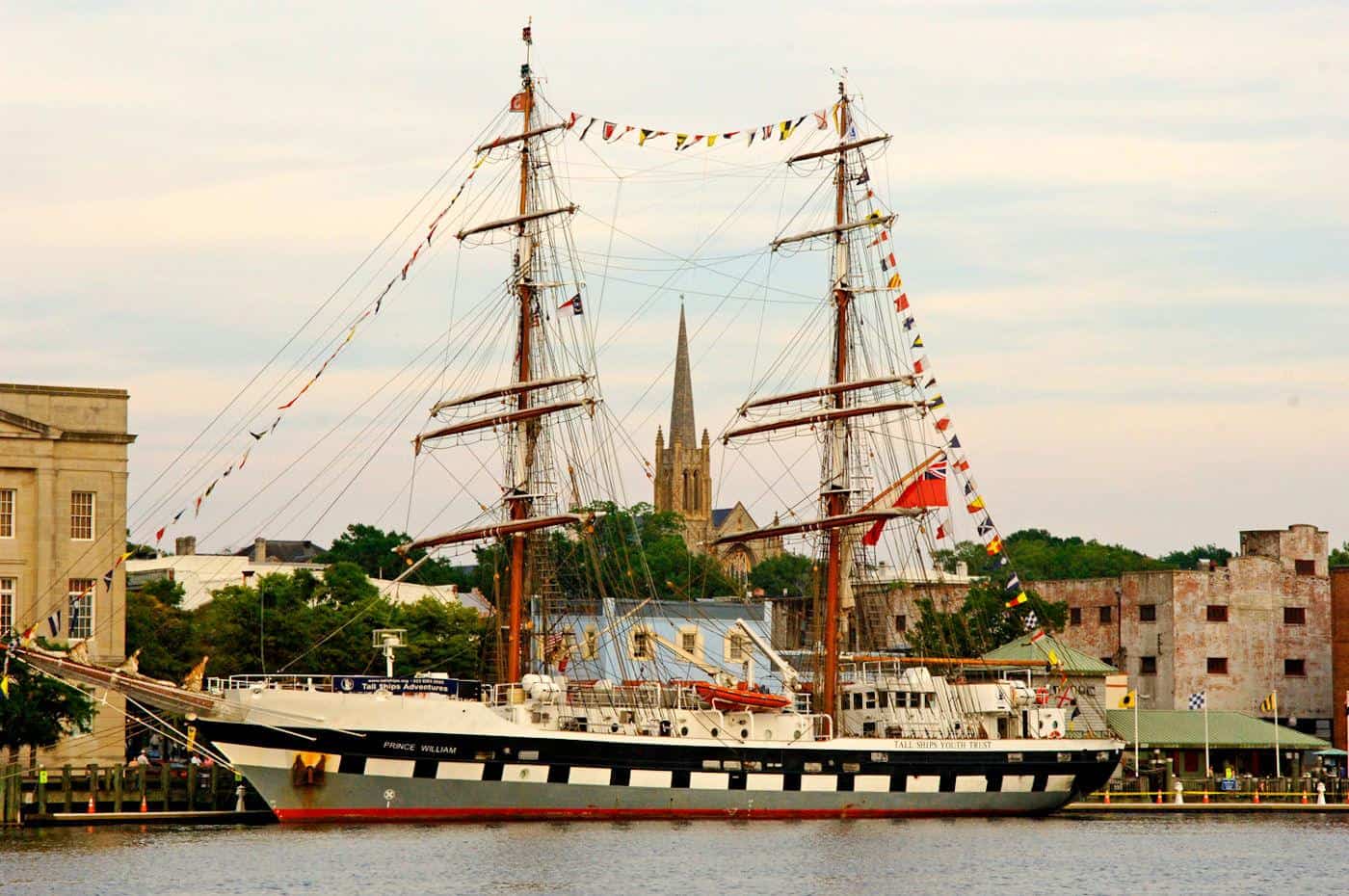 Tall Ship Prince William on the Cape Fear River
Historic Thalian Hall, the pride of Thespian community, was designed by the foremost theatre architect of the 19th Century, John Montague Trimble, and has been restored to its 1850s elegance. Now called The Thalian Center for the Performing Arts, the theatre is filled nightly with lovers of music and drama. Its stage has seen the likes of actors Maurice Barrymore, Agnes Moorehead and Linda Lavin and singers Marian Anderson, The Kingston Trio and Judy Collins. Even John Phillips Sousa and the legendary Buffalo Bill and his Wild West Show performed there.
Across town is one of the finest movie studios in the world, EUE Screen Gems Studios. The studio was initially drawn to this area by Orton Plantation with its gorgeous old mansion house and elaborate formal gardens overlooking the river. Over time the studio found a veritable treasure trove of suitable locations. Dozens of movies including Glory, Sleeping With The Enemy, Blue Velvet, Teenage Mutant Ninja Turtles, I Know What You Did Last Summer, 28 Days, Iron Man 3, Cape Fear, Black Knight, and The Crow have since been filmed in the city or nearby.  Television shows including Matlock, Dawson's Creek, One Tree Hill, Eastbound and Down, Under the Dome, Revolution, Sleepy Hollow, and Good Behavior have been produced here.
During World War II, the Wilmington shipyard turned out hundreds of Liberty ships – cargo carriers that were among the most valuable of the war; today its deep-water port hosts huge container ships from all over the world.  Pleasure craft and the mighty battleship, USS NORTH CAROLINA share the city's waterfront along the Cape Fear River.  Battleship NORTH CAROLINA is the most decorated U.S. Battleship of World War II.  On September 2, 2020, President Donald R. Trump attended a ceremony at the USS NORTH CAROLINA during which he formally designated Wilmington, North Carolina as the first American World War II Heritage City.  The president's designation marked the 75th anniversary of General Douglas MacArthur's acceptance of Japan's unconditional surrender to end World War II on September 2, 1945.
The Cotton Exchange, a quaint shopping center in the downtown area, occupies the old brick buildings that once housed one of the world's largest cotton exporting businesses.
Today, Wilmington, known as the "Port City," continues to fascinate and entertain its visitors.  Be sure to visit Wilmington NC to enjoy the myriad experiences it has to offer.  Using this Wilmington NC visitor guide makes it easy to explore your favorites interests.
The both calming and exciting 1.75-mile Wilmington Riverwalk is a must-see with its boutiques, shops, galleries, and restaurants, and moving vistas.  It currently runs along the bank of the Cape Fear River from Nun Street north to the Isabel Holmes bridge.
The Wilmington Historic District was listed in the National Register of Historic Places in 1974 and its area expanded in 2003.  It is comprised of 1,070 acres to include approximately 875 buildings, 38 sites, and other structures.  This historic zone includes residential and commercials buildings that have been part of our nation's development produced by the local population.  See the historic district map here and its inventory list here.
There are a variety of interesting tours in Historic Downtown Wilmington.  Guided horsedrawn carriage tours methodically step you along Wilmington streets' historic sites and Colonial, Antebellum and Victorian architecture.  Similarly, trolley tours and walking tours highlight the Port City's past and present.  There are also garden, food, pub, haunted, and Hollywood film and television location tours.
Take a daytime or moonlight scenic cruise with tour guides up and down the Cape Fear River and over to the beaches.  These pleasurable cruises are run daily by experienced mariners.  Boat charters are available.
Wilmington's nightlife has something for everyone.  There are upscale bars and lounges, cool sports bars, nightclubs with live and DJ music, smooth wine bars, and breweries with craft beers all over town.  Downtown Wilmington has a menagerie of hot spots to meet new friends and dance.  And don't forget the hotel bars.
Visitors spend days shopping in Wilmington looking for everything from designer brands to locally handmade items.  There are shopping centers, stores and boutiques that dot the town from the river to the sea.  It is an antiquer's paradise. 
First-time tourists are surprised and pleased to discover the multitude of diverse things to do in Wilmington and nearby beaches.  We suggest you review all the great options in this Wilmington NC Visitor Center and peruse the entire site digging down multiple levels within the menus to find your favorites.  Take advantage of VisitWilmingtonNC.com™ on your phone to easily locate destinations while walking around the city.
Historic Wilmington warmly welcomes you.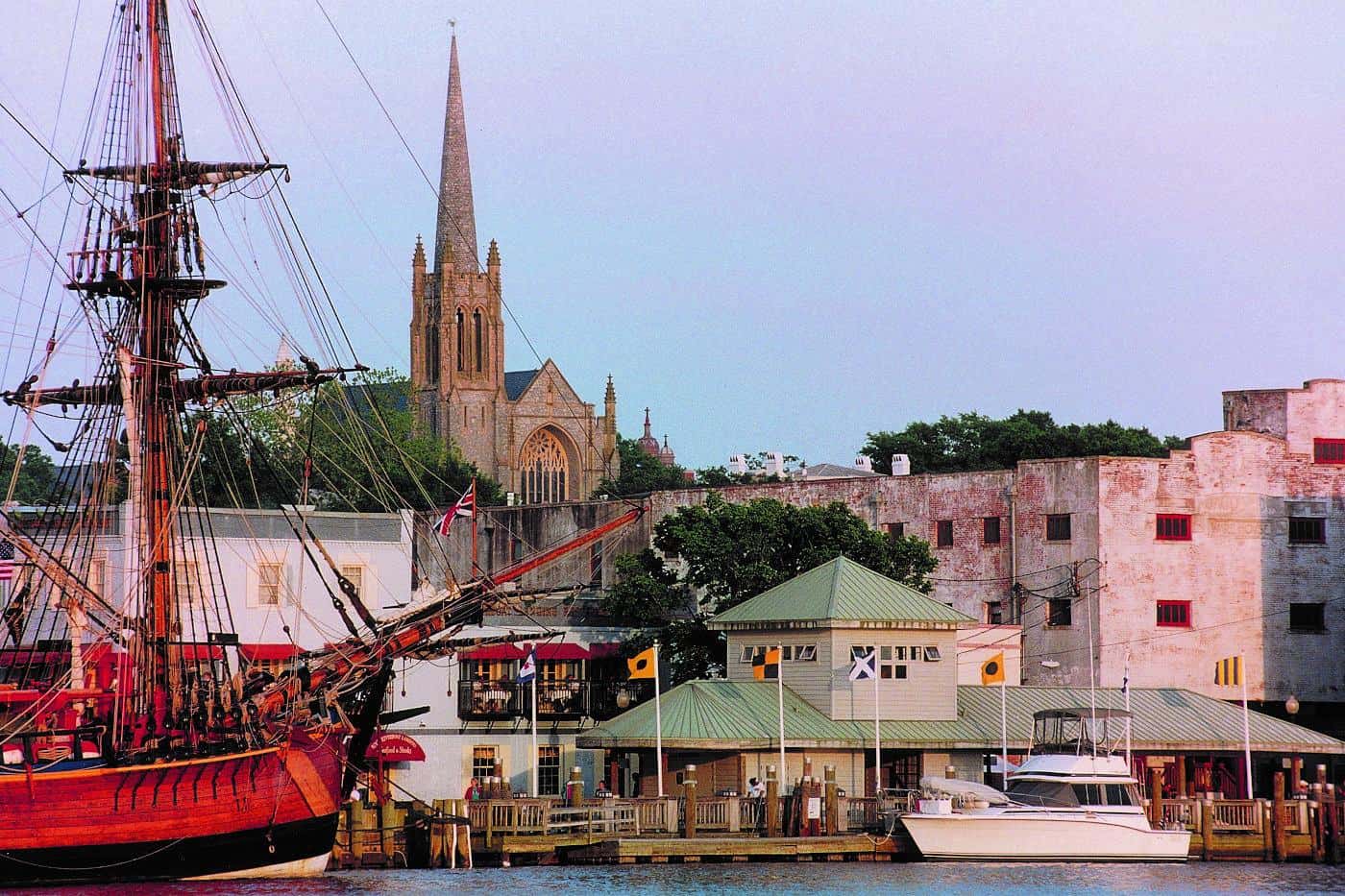 ALL THREE BEACH STRANDS ARE OPEN

FACE COVERINGS ARE REQUIRED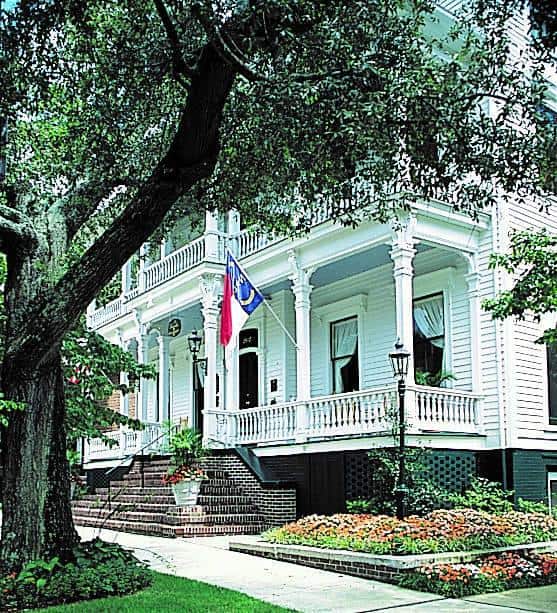 Wilmington Historic Architecture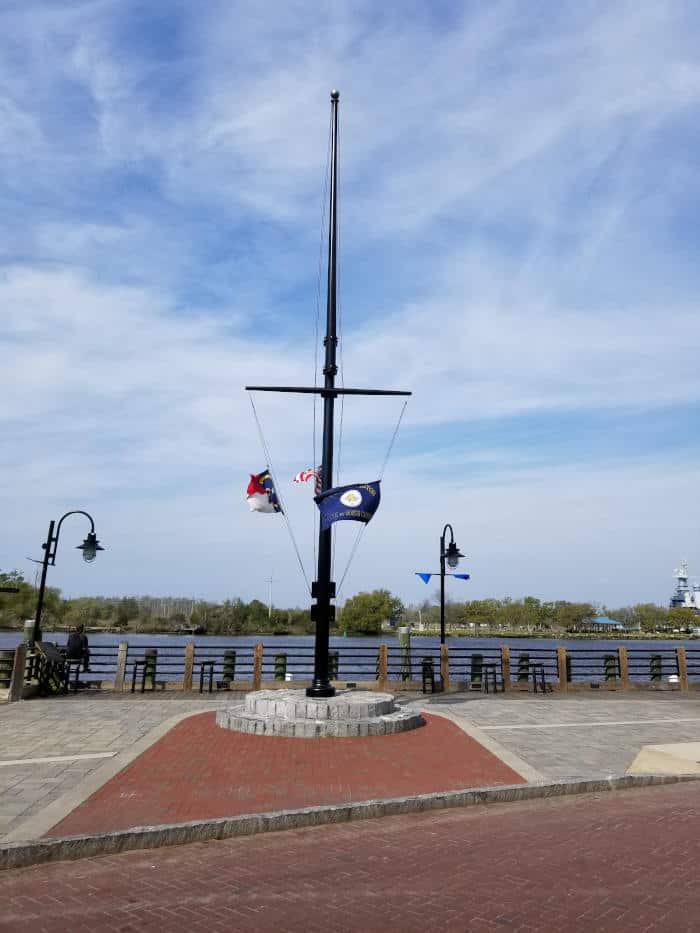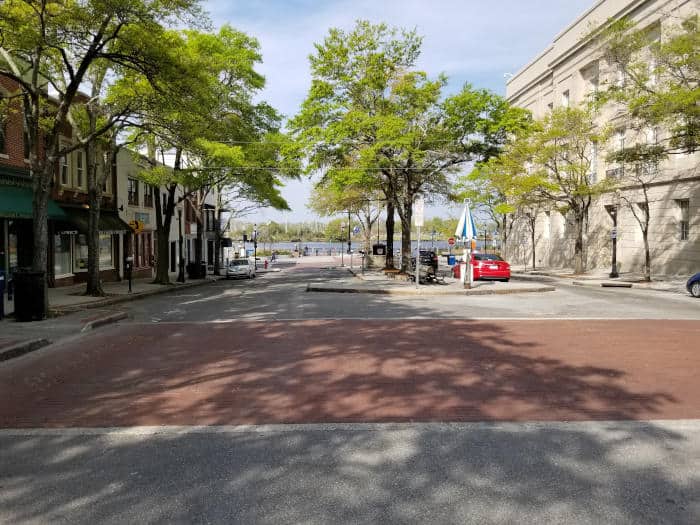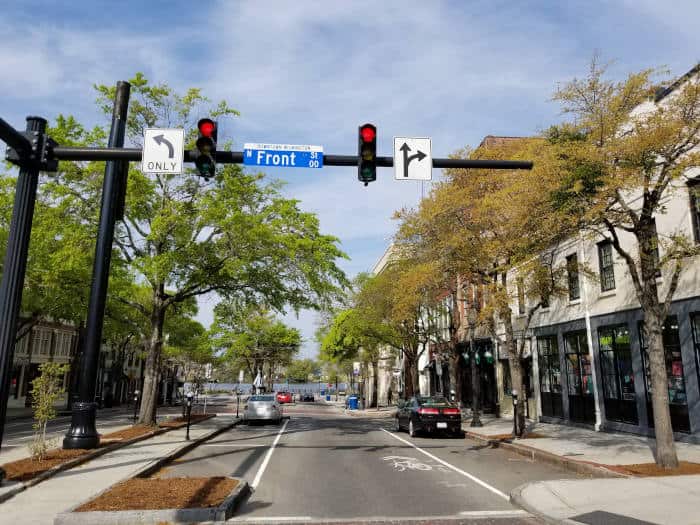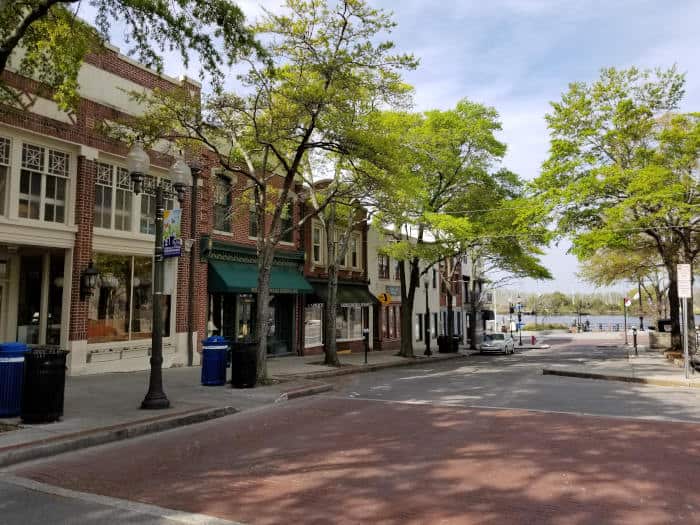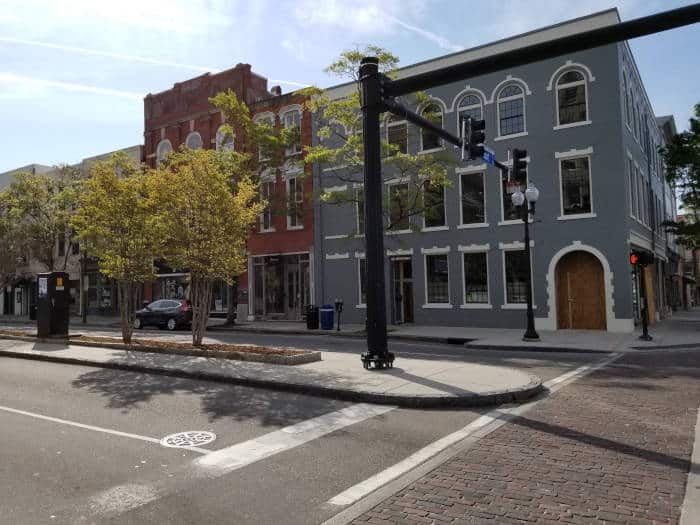 Wilmington City Hall – Thalian Hall

Corinthian order portico
Cape Fear Memorial Bridge
The Cape Fear Memorial Bridge opened October 1, 1969.  It is a steel vertical-lift bridge that raises and lowers to allow river traffic through.  It constitutes US 17/US 76/US 421 across the Cape Fear River between Brunswick County and New Hanover County, North Carolina.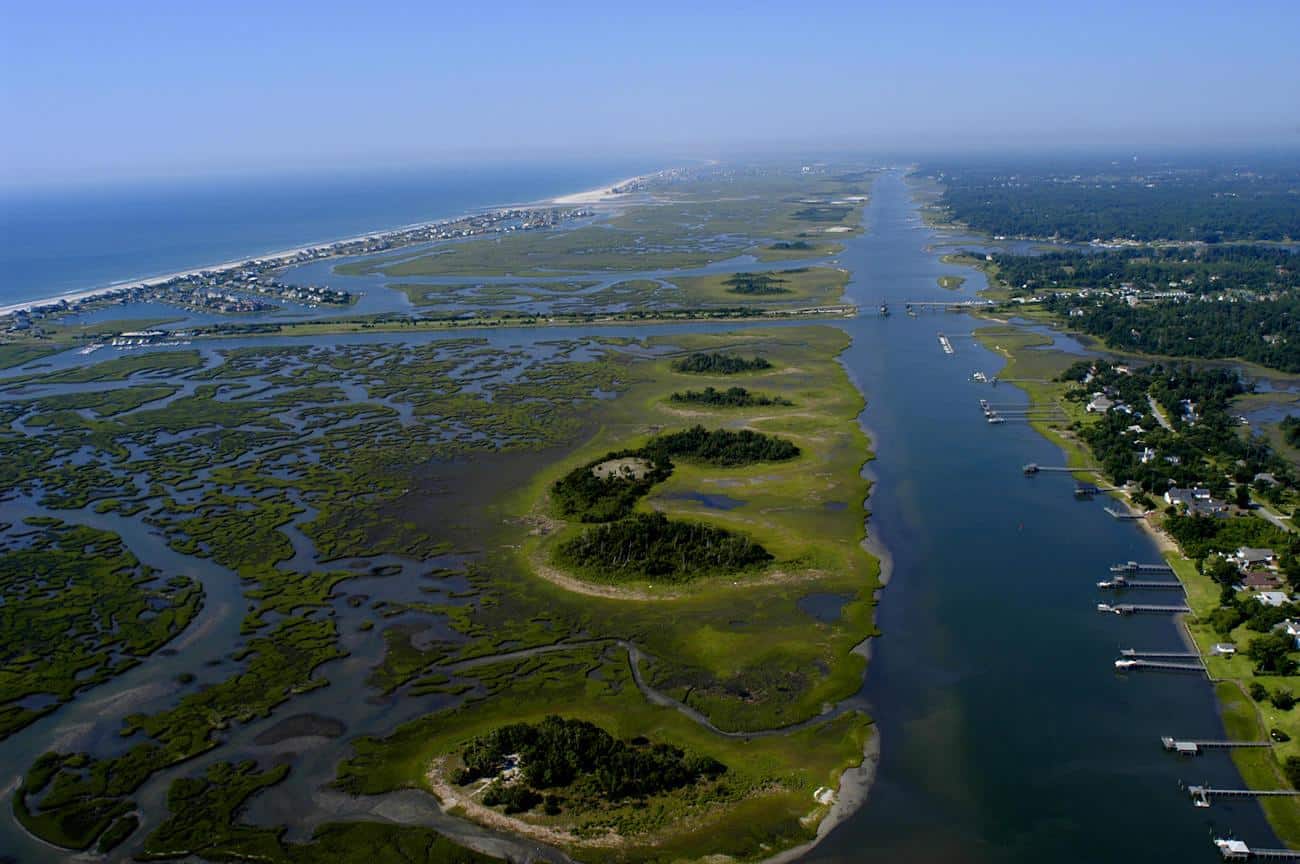 Intracoastal Waterway along Wilmington Beaches
Discover Wilmington attractions and nearby beach activities in this Wilmington NC Visitor Center.
Book Wilmington Reservations Now
Wilmington NC
Visitor Center