Photography by © Brownie Harris
USS NORTH CAROLINA
History Museum
HOURS & TICKETING
HOURS
The Battleship NORTH CAROLINA is open every day of the year, including all holidays, as the Ship serves as a memorial. 
Ticket Sales:
Labor Day – Memorial Day: 8:00 am – 4:00 pm
Memorial Day – Labor Day: 8:00 am – 7:00 pm

Summer Hours:
Friday before Memorial Day through Labor Day: 8:00 am – 8:00 pm, ticket sales end one hour before closing, EXCEPT Independence Day (4th of July) when the ship closes at 5:00 pm for enforcement of firework safety zone, when the last ticket will be sold at 4:00 pm.

Winter Hours:
Tuesday following Labor Day through Thursday before Memorial Day: 8:00 am – 5:00 pm, EXCEPT Christmas Day when the Ship opens at noon.  Ticket sales end one hour before closing. 

The tour is self-guided and is well-marked so that you can tour at your own pace.  We recommend allowing at least two hours for the tour, but for the true enthusiast, you can spend much more time than that.  Click

here

for Guided Tours. 
Adults: 12 & over: $14.00* $10.00* until further notice
Seniors: 65 & over: $10.00*
Military: Active or retired, military spouses & dependents, with ID cards: $10.00*
Children: 6 through 11: $6.00*
Children: 5 & under: Free
Friends of the Battleship Members: Free
*Plus Tax
Ticket sales end one hour before closing.
The Battleship gladly accepts cash, VISA, MasterCard or Discover.  We do not accept personal checks.

GROUP ADMISSION:  The Battleship offers a 15% discount on admission for groups of 10 or more visitors paying by a single source.  The per person discounted group rates are as follows.
Adults: 12 & over: $10.00*
Children: 6-11: $5.00*
Children: 5 & under: Free*Plus Tax
Reservations are encouraged to ensure the rate. To make a reservation or to receive more information, please contact Shelly Robinson or call 910.399.9101.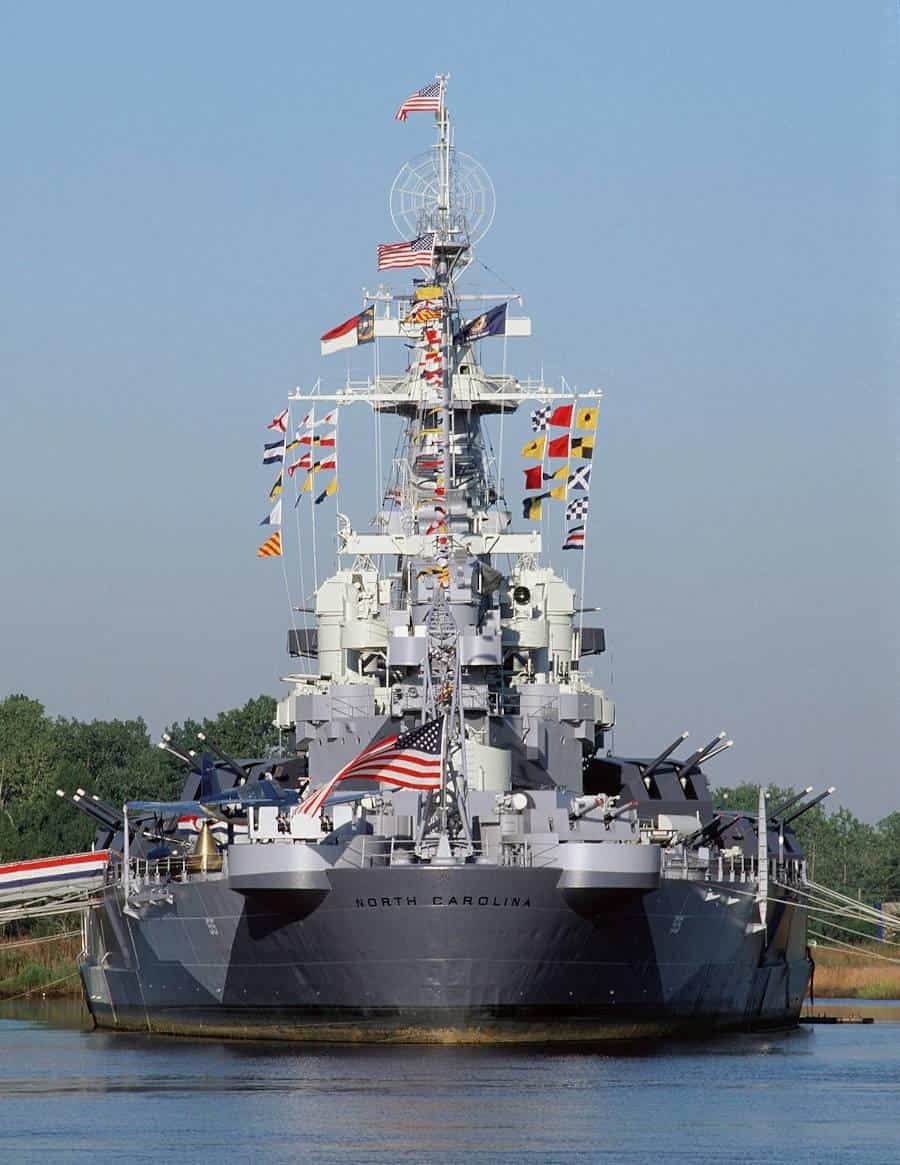 USS NORTH CAROLINA
World War II was called "the good war" – the war of good versus evil. But while the United States and its Allies were victorious, that victory was bitter-sweet.  The USS NORTH CAROLINA played an important role.
The price of freedom was high. No one knows exactly how many were killed, wounded or missing between September 1939 and September 1945, but death toll estimates ranged upwardly to 22 million. Financial costs exceeded one trillion dollars. (The United States spent about $250 million per day on the War – ten times the amount it had spent on all its previous wars put together.) Property damage estimates exceeded $239 trillion. The war involved 50 countries, and its effects were felt by all nations.
The War's battlefields spanned the globe. Major battles occurred on the soils of Asia, Europe and Africa, as well as on the waters of the Atlantic, Pacific and Mediterranean. Men died in the jungles of Pacific islands, in the hills of China, in the deserts of Libya, and on the plains of France.
World War II, the most destructive war in history, began on September 1, 1939 with the invasion of Poland by Germany. The war ended on September 2, 1945 with Japan's surrender after the atomic bomb drops on Hiroshima and Nagasaki, and exactly three years eight months, and twenty-two days after Japan bombed Pearl Harbor.
THE VJ OBSERVANCE
September 2, 1945 marked the end of World War II.  President Harry Truman proclaimed it VJ (Victory Over Japan) Day.
In 1995, the USS NORTH CAROLINA Battleship Memorial, located in Wilmington, North Carolina was selected as one of five designated host sites for the United States' observance of the fiftieth anniversary of VJ Day.  It is a fitting honor in that the USS NORTH CAROLINA was the most decorated United States Battleship of World War II; and today is a State memorial to the veterans of that War, enshrined with the names of over 10,000 North Carolinians from all branches of military service who gave their lives.
Each VJ Day Observance is a time to pause and reflect, a time to rejoice, a time to give thanks for the blessing of freedom, a time to honor our veterans and a tie to remember their fallen comrades.
THE SHIP
From her keel (backbone) to the crow's nest, the USS NORTH CAROLINA is nearly 200 feet high or about the height of a 14-story building. From bow to stern, she is more than 728 feet long or nearly the length of two and one-half city blocks.  Her width is 108 feet.
It took six years from the authorization to build the USS NORTH CAROLINA until she was "Pacific bound." Authorization to build her, along with her sister ship, the USS WASHINGTON, was contained in an act of Congress passed June 3, 1936. Prior to her construction, the Brooklyn Navy Yard had to be expanded and reinforced.  The keel of BB55, the USS NORTH CAROLINA, was laid on October 27, 1937. It was the first new battleship keel to be laid by the United States Navy in 16 years.
It took hundreds of workmen almost four years to construct her. She is built of thousands of tons of steel and displaces over 40,000 tons when loaded.
While she was under construction, World War II commenced. She was launched on June 13, 1940, and commissioned on April 9, 1941 under the command of Captain Olaf. M. Hustvedt.
40 MONTHS IN COMBAT
When the Japanese attacked Pearl Harbor, the Battleship NC was in New York.  Training was accelerated and on June 5, 1942, she was "Pacific bound."  She spend 40 months in combat, and according to the Japanese propaganda broadcaster "Tokyo Rose," was sunk six different times.
Truth is, the USS NORTH CAROLINA steamed 307,000 miles during her wartime duty, consuming more than two million gallons of fuel. She was a mighty ship. Her powerful guns could send a 2,700 pound shell through the air for more than twenty miles.
She distinguished herself in the Pacific Theater of World War II by engaging in every major campaign from the time of her arrival at Pearl Harbor in July of 1942 until the war's end. She fought from Guadalcanal in the Solomon Islands through the Gilberts, Marshalls, Carolines, New Guinea and the Marianas; the Philippines, Iwo Jima and Okinawa; to Japan and to victory in Tokyo Bay. She earned fifteen battlestars – more than any other United States battleship.
During World War II, the USS NORTH CAROLINA survived a torpedo hit on September 15, 1942 and a typhoon on December 18, 1944. In September 1961, she was saved from the scrap metal dealers thanks to the citizens of North Carolina.
BATTLESHIP NC'S BRAVE CREW
Nearly 2,000 officers and men, including a detachment of United States Marines, were needed to run the sophisticated and complicated equipment aboard  the USS NORTH CAROLINA. The men were divided into 22 departments and either were directly involved in warfare, or worked in a support capacity to keep the mini-city afloat.  See the many WWII naval combat artifacts on the ship.
THE MEMORIAL
"Save Our Ship" became the cry of North Carolinians when the United States Navy announced its intention to scrap the USS NORTH CAROLINA in 1961.
Saving the ship as a State war memorial became a reality thanks to the visionary leadership of James S. Craig, Jr., then Governor Luther H. Hodges, the
USS NORTH CAROLINA Battleship Advisory Committee, Governor Terry Sanford and Hugh Morton coupled with the $330,000 donated by the citizens of North Carolina.
The ship was towed down the East Coast from Bayonne to the Cape Fear River, was moored at her present berth on October 2, 1961 and was dedicated as a State war memorial on April 29, 1962.
USS NORTH CAROLINA aerial video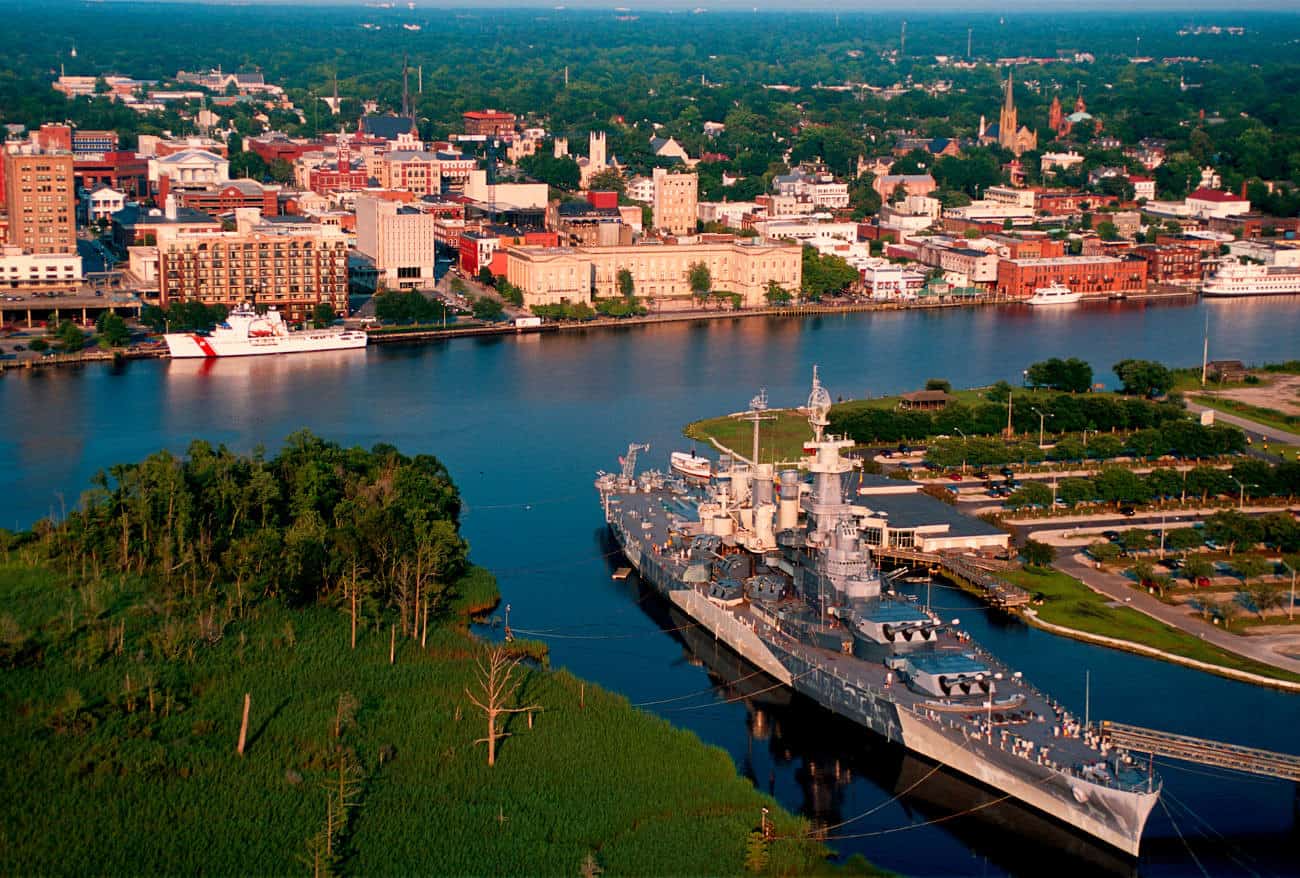 The following is a quote from President Harry S. Truman in his address to the Armed Forces of the United States throughout the world over the Armed Forces Radio Service and major networks on April 17, 1945.  President Truman spoke at 10 p.m. from the White House.
"Our debt to the heroic men and valiant women in the service of our country can never be repaid.  They have earned our undying gratitude.  America will never forget their sacrifices."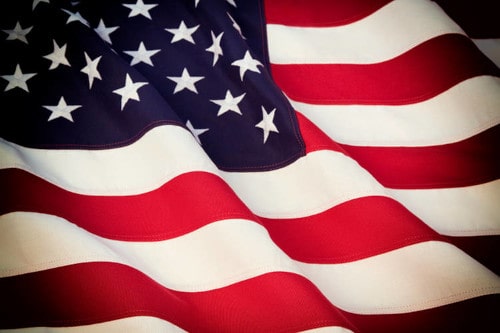 Thank You to all who served on the USS NORTH CAROLINA
The USS NORTH CAROLINA is one of the top tourist attractions in North Carolina.  Don't miss it.