State Historic Site
and Museum
Address
1610 Ft. Fisher Blvd. South
Kure Beach, NC 28449
Hours
Tuesday – Saturday 9 a.m. – 5 p.m.
Closed Sunday, Monday, and most major holidays
Admission is free
Telephone
910.251.7340
Visitor Center
Watch a ten-minute Fort Fisher orientation video.
Museum
Gift Shop
Trails, Monuments, Outdoor Exhibits
Guided Tours, call for schedule
Civil War reenactments, call for schedule
Handicapped Accessibility
Fort Fisher was a Confederate fort during the American Civil War from 1861 through 1865.  Strategically important, Wilmington was a vital port for the delivery of goods to the Confederacy.  Wilmington had ready railroad access from its port into Virginia that fed supplies to General Robert E. Lee's Army of Northern Virginia.
Fort Fisher kept the port of Wilmington open to blockade runner vessels that supplied necessary goods to Confederate armies and its civilian population.  It was visited by Confederate President Jefferson Davis. 
In 1865, the supply route through Wilmington was the last significant supply line that could deliver needed munitions, clothing and food to General Lee's Army of Northern Virginia.
On January 15, 1865, on orders from President Lincoln's General-in-Chief Ulysses S. Grant, who had previously visited the site but did not leave his warship, the Union conducted a successful massive amphibious attack on the fort in the Second Battle of Fort Fisher. 
The fort was captured by the Union Army. 
Following the fall of Fort Fisher, the blockade-runners' trading route to Wilmington and supply line for General Lee's Army ended.  Shortly thereafter, in February 1865, the Union Army took control of Wilmington.
This fort was the largest in the Confederacy.  It was named for Colonel Charles Frederick Fisher, of Salisbury, North Carolina, who died leading a charge on a Union Army battery at the First Battle of Bull Run also known as the Battle of Manassas in 1861.
The fortress is located on the peninsula between the Cape Fear River and the Atlantic Ocean. 
Colonel William Lamb designed the final version in the shape of a number 7.  It had a sea face that stretched a mile long and a land face the width of the point.  Much of it was 30-feet high with walls 40-feet deep.  It had more than 15 batteries with some as high as 60 feet. 
Diagrams show that it ran from today's Fort Fisher Aquarium to the visitor center building.  About 10% of the fort remains.
The fort became a National Historic Landmark on November 5, 1961, the first in North Carolina.  It is part of the Fort Fisher State Historic Site operated by the North Carolina Department of Natural and Cultural Resources.
Visitors to the historic site are invited to tour the fort complex, museum, visitor center, and scenic trails.
Guided tours and exhibits including a replica of a 150-pound Armstrong cannon provide historical orientation.  This is a must-see for Civil War enthusiasts.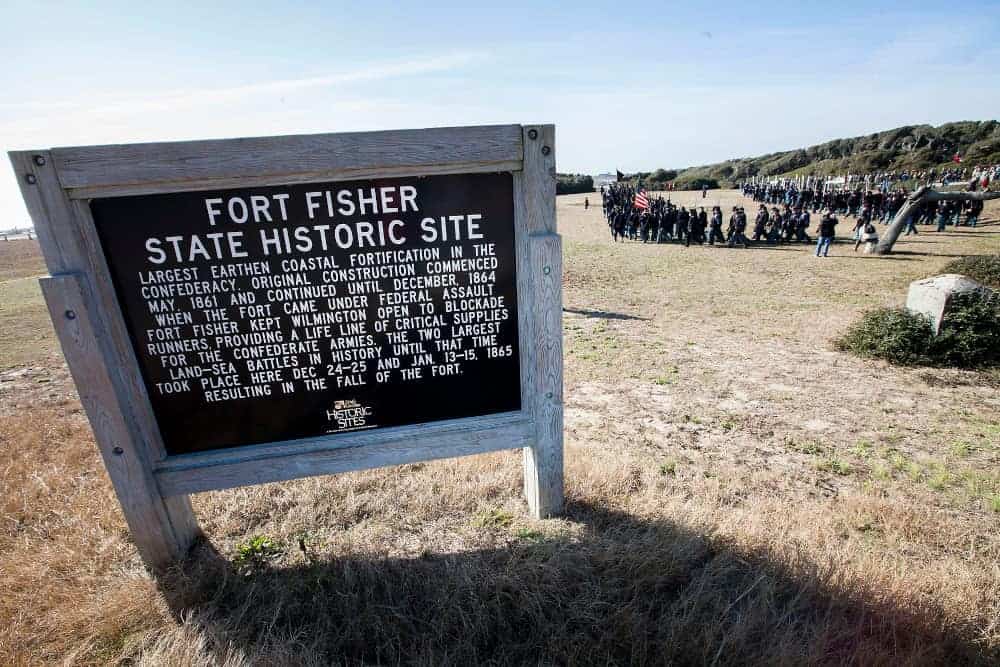 Battles of Fort Fisher Reenactment
Historical re-enactors on the 150th Anniversary of the Battle of Fort Fisher on Jan. 17, 2015, composed of members of the Marine Corps Historical Interpretive Team.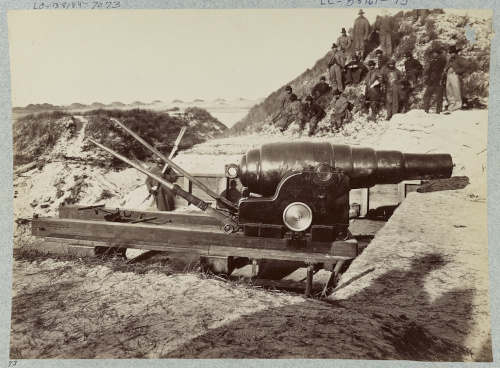 Timothy H. O'Sullivan
Armstrong Gun in Fort Fisher in 1865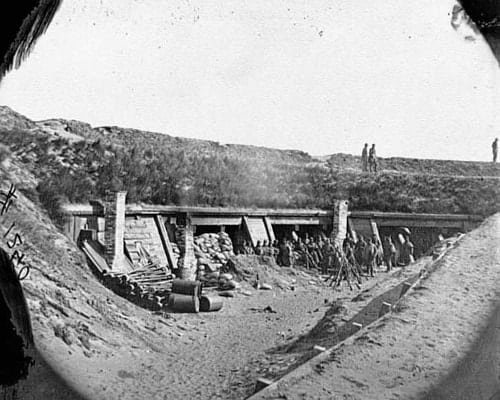 Author unknown
Inside the fort before 1865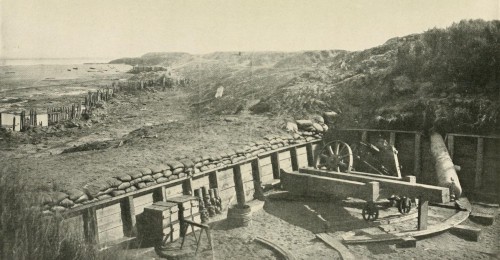 Author unknown
Porter's fleet delivered accurate fire that dismounted this gun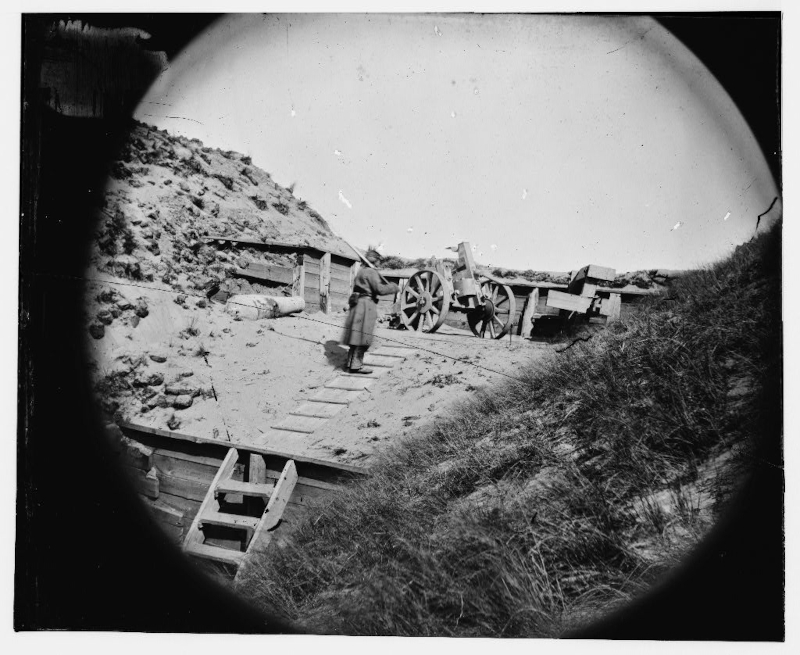 Civil War Glass Negative
Interior in 1865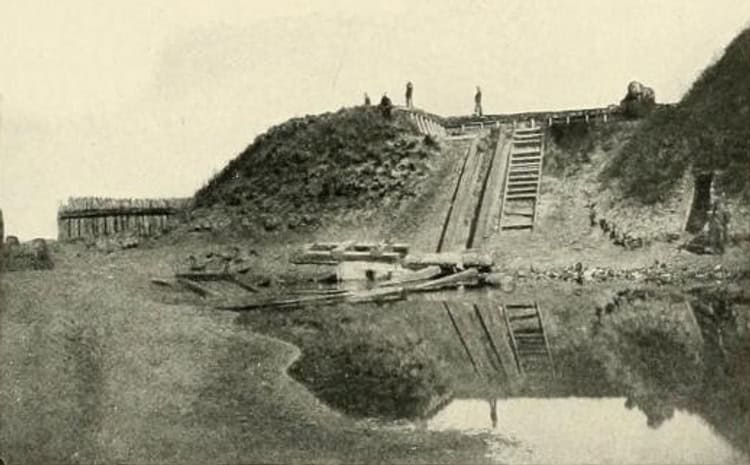 Author unknown
"The Mound" on which sat the only light allowed by the Confederates to guide blockade runners

Author unknown
The sea face of Fort Fisher photographed after its capture following the Second Battle of Fort Fisher in 1865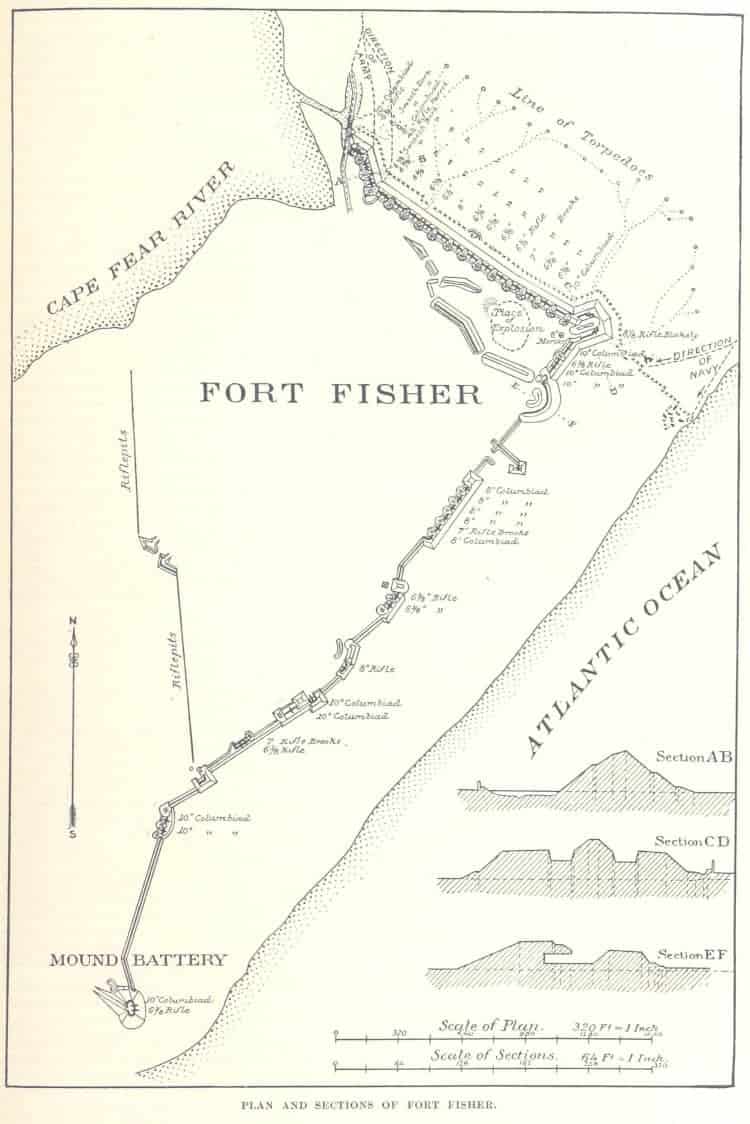 A plan of the Confederate fort that guarded the entrance to the port of Wilmington, North Carolina during the American Civil War.
Published in book "Battles and Leaders of the Civil War" (1887)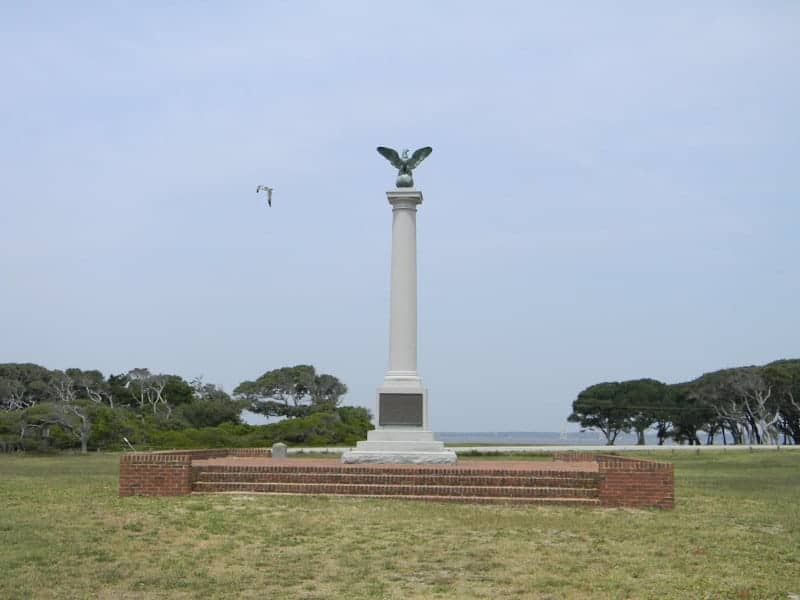 Upstateherd
Fort Battle Monument