Wilmington Bike & Brew Tours
E-Bike Tours of Historic Wilmington
Telephone: 910.838.6900
• Wilmington by E-Bike Tour
• Wilmington E-Bike & Brewery Tour
• Private Tours available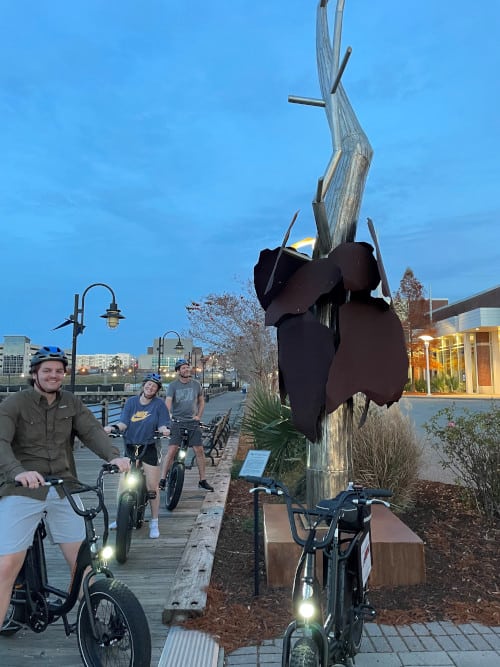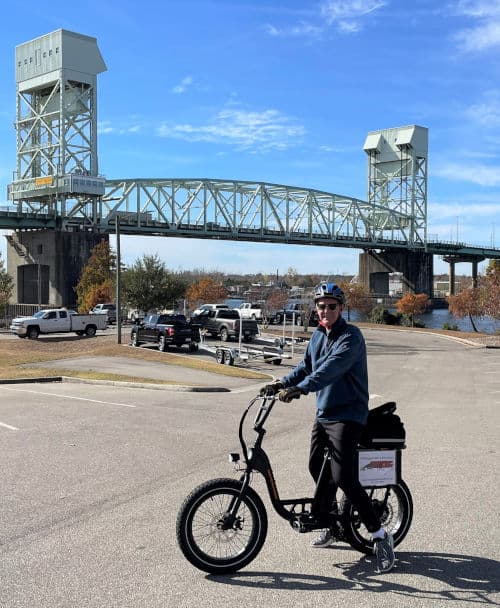 Ride Along The Cape Fear River
Wilmington Bike & Brew Tours
Our goal is to make you feel like a local as you explore all Wilmington has to offer. If you're looking to check out some of the best breweries in town, visit unique neighborhoods, and take in the historic and significant sites that Wilmington is known for, then we have a tour for you.
E-Bike tours of Historic Wilmington
Wilmington by E- Bike Tour

Wilmington E-Bike & Brewery Tour

Private Tours available
AVAILABLE TOURS
Wilmington by E-Bike Tour – $75 per rider
Our Wilmington by E-Bike tour is for those looking for a fun relaxing way to explore the sites downtown Wilmington has to offer.  The tour will focus on historical and significant sites throughout the Downtown Wilmington area.  The focus is to show you all just how much there is to see here in Wilmington!  The tour will cover approximately 12 miles of riding and last about 2.5-3 hours.  A great tour for families. All riders must be at least 16 years old.
Tour Highlights
At nearly 300 years old, Wilmington has historic sites marking each of our nation's historical events.

We will visit the shores of the Cape Fear River and visit its history dating to before the revolutionary war.

We will see remnants of the civil war, sites representing Wilmington's important role in the Confederacy during the civil war. 

Wilmington was a significant factor in the underground railroad, and we can still see evidence of the role it played. 

Wilmington has some of the oldest pre-civil war cemeteries in the nation, and we will experience them. 

Our residents fought and died in each of our nation's major conflicts. We will visit the war memorials for those who have fallen.

The Antebellum architecture in Wilmington is everywhere. We will visit some great examples of antebellum buildings and antebellum homes located throughout the city.

Explore the City of Wilmington, NC on an E-Bike for 3 hours.
Tour Dates:
November-March:  Fri, Mon, Wed (1PM)
April-October: Mon-Sun (10AM)
Wilmington Bike & Brew Tour – $85 per rider
Experience historic Wilmington, NC and its historic sites by E-Bike while experiencing 2-3 Wilmington Craft Breweries.  Sample some of the best craft beer on the coast!  Each E-bike tour will include stops at multiple historic and significant sites throughout downtown Wilmington, and 2-3 breweries.  Come see Wilmington in a whole new way. The total ride is 12 miles over 4-5 hours. All riders must be at least 16 years old to ride the E-Bike and at least 21 years old (with photo ID) if sampling Craft Beers.
Tour Highlights
The Wilmington Bike & Brew Tour is the perfect balance of sightseeing and craft beer sampling, making it popular with solo travelers, couples, families with teens, and groups alike. 

The craft brewery scene in Wilmington is exploding, and we are getting a taste.

Spend the day cruising around town on an electric bike checking out some of Wilmington's best breweries.  Whether you're just visiting or you're a local looking for an adventure, our E-Bike Tour to the Craft Breweries of Wilmington is a fun and popular activity for craft beer lovers.

Explore the City of Wilmington, NC on an E-Bike for about 4.5 hours.

NOT just a brewery tour…this tour allows you to experience many of the sites described in the Wilmington by E-bike tour.

Visit 2-3 of Wilmington's Craft Breweries in between our visits to the historical and significant sites downtown.

End the tour at a 4th brewery to enjoy after the tour has completed.
Tour dates:
November-March: Sat, Sun, Tues, Thur (1PM)
April-October: Mon-Sun (2PM)
Private Tours
Please contact us via email or phone to coordinate private tours.  All private tours will be based on tour scheduling and availability.